Party's General Secretary Nong Duc Manh welcomed Jia Qinglin, member of the Standing Committee of the Communist Party of China's Central Committee's Political Bureau, Chairman of the Chinese People's Political Consultative Conference National Committee and his delegation while receiving the Chinese guests in Ha Noi on March 21.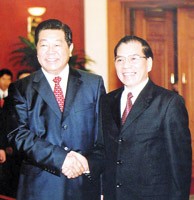 Vietnamese Communist Party leader Nong Duc Manh (right) warmly welcomes Mr. Jia Qinglin on March 21.
Speaking at the meeting, Mr. Jia Qinglin praised the great achievements the Vietnamese people obtained in the past 20 years of reforms and expressed his belief in the success of the tenth National Congress of the Communist Party of Viet Nam.
Under the leadership of the party, the Vietnamese people would gain greater achievements, working towards an equitable, democratic and civilized society as well as a rich and strong country, he said.
Jia Qinglin, who is also the Chairman of the National Committee of the Chinese People's Political Consultative Conference, said China attached much importance to strengthening of the mutual relation with Viet Nam and also pledged its cooperation with the country to improve the relation according to the signed agreements.
The Vietnamese Party leader expressed his pleasure at the fine development of relations between the two Parties, States and Peoples, saying that the exchange of visits between Party and State leaders of the two countries in recent years helped lift Viet Nam-China relations to a new height, benefiting peace, stability and development in the region and the world.
He also affirmed the unchanged policies of Viet Nam to do its utmost to further promote Viet Nam-China relations under the motto agreed by the two countries' leaders.
Later the same day, President Tran Duc Luong and Prime Minister Phan Van Khai received Jia Qinglin in the capital city of Ha Noi.
Both sides agreed that the two countries should promote the exchange of visits by Party and State leaders, boosting traditional friendly ties and multifaceted cooperation for the interest of the two peoples.
PM Khai praised the socio-economic development of China in the recent past, saying that the country's experiences in reform and world engagement are very useful for Viet Nam.
Mr. Jia Qinglin said the two sides should promote economic and trade cooperation, especially in many potential industries including energy and traffic infrastructure and facilities investment.
He also hoped that two countries will cooperate in building the China-ASEAN free trade area, and affirmed that China would continue supporting Viet Nam's bid to join the WTO.
Earlier the same day, Mr.Jia Qinglin and his delegation paid a floral tribute to the late President Ho Chi Minh at his Mausoleum.