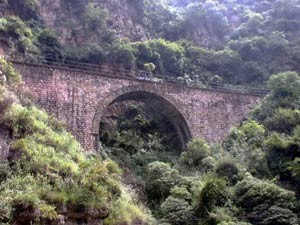 The old Kunming-Ha Noi railway (Chinese part)
Viet Nam and China agreed to sign a border railway protocol at the 30th conference that opened in Ha Noi on Dec. 13.
At the two-day conference, representatives from China's Liao Zhou and Kunming Railway Departments, the Vietnamese Ministry of Transport and the two countries' relevant ministries and agencies will settle emerging issues relating to the transport on international railway route so as to ensure that the volume of transported goods match their railway infrastructure capacity.
The signing of the Viet Nam-China border railway agreement in 1992 and the reopening of the two countries' international railway route in 1996 have contributed to their economic development.
The volume of imported and exported goods on the railway have increased over the recent years. The volume of Chinese goods imported to Viet Nam increased from 847,000 tonnes in 2005 to 907,830 tonnes in the first 11 months of 2006 while that of Vietnamese goods exported to China rose to almost 360,000 tonnes in the first 11 months of 2006.
The total volume of imported and exported goods transported on the railway is expected to rise by 20 percent as for the number of passengers using international railways it is estimated to reach an 11 percent increase by the end of 2006.