A Vietnamese National Assembly (NA) delegation headed by NA Chairman Nguyen Van An visited Brazil, Argentina and Venezuela from March 5 to 15, 2006 at the invitation of the countries' legislative bodies and Houses of Representatives.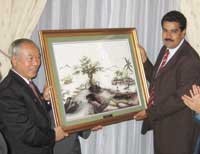 National Assembly Chairman Nguyen Van An presents an embroidered picture to Venezuela's National Assembly President Nicolas Maduro Moros
This is the NA Chairman's first visit to Latin America, described as a continent of tomorrow, and is also one of Viet Nam's important diplomatic activities this year. The visit plays an important role in boosting multi-lateral relations and cooperation between Viet Nam's people and National Assembly and the peoples and legislative bodies of Brazil, Argentina and Venezuela, and between Viet Nam and Latin America in general.
The visit also aims to strengthen Viet Nam's ties with the countries, call for more supports for Viet Nam to join the WTO and for the country's candidature for a non-permanent seat in the United Nations Security Council in 2008 and 2009.
Brazil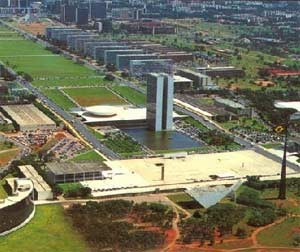 Brazil's capital Brasilia
Brazil is the biggest country of Latin America. It is rich in natural resources like iron, bauxite, zinc, aluminum, uranium, germ stones, wood and oil. The land of samba dances ranks first in the world in supplying sugar and is accountable for half of the world's coffee supply. The homeland of the world's Golden Ball winner, Ronaldinho, is one of the world's four leading nations in husbandry and is strong in the fields of oil and gas, machine production, food and foodstuff, building express boats and airplane production. Brazil's GDP grew by 2.5% to US$794 billion last year, ranking first in Latin America and 12th in the world. Its economy is forecast to grow by 3.5-4% this year.
Brazil and Viet Nam are believed to effectively cooperate in oil and gas, machine production, agriculture, food processing, health care, etc. The two countries' bilateral trade increased from US$75 million in 2004 to US$113.8 million last year. Viet Nam exports to Brazil coal, rice, clothes, fabrics, footwear, tires and inner tubes, furniture, electronics, handicrafts and other items, and buys from Brazil wheat, soya oil, steel, paper and pulp, eucalyptus wood, leather and some other commodities.
During his visit in Brazil from March 5 to 9, NA Chairman Nguyen Van An met with President Lula da Silva, House of Representatives Chairman Aldo Rebelo, Parliament Chairman Antonio Carlos, other politicians and business executives. He also visited the Vietnamese Embassy and met with the Vietnamese community.
The two countries' legislators agreed to intensify their cooperation relations. Mr. An affirmed that Viet Nam places strong emphases on cooperation and multi-lateral relations with Latin America, including Brazil, saying that the two countries have a lot of cooperation potentials in many fields. Mr. An said the two nations' legislative bodies need to encourage the two governments to further tighten ties, especially in economy, trade and investment.
Mr. An attended the Viet Nam-Brazil Business Forum, jointly held by the Viet Nam Chamber of Commerce and Industry and the Sao Paulo State Federation of Industries (FIESP), together with representatives of almost 100 Brazilian and Vietnamese companies. He said Viet Nam always facilitates business activities and development, expressing his hopes that the two nations' business communities would help push the countries' trade and investment relations to a higher level. He said he expected companies to find out business opportunities in each country.
Argentina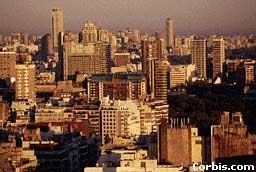 Capital Buenos Aires of Argentina
Argentina is the second biggest country in Latin America after Brazil. After a 10-year crisis, the Argentine economy grew by 8.8% in 2003, 9% in 2004 and 8.4% last year. Argentina has escaped the burden of debts, stabilized its currency peso and improved relations with the International Monetary Fund.
Argentina supported Viet Nam strongly during the Viet Nam War. The two countries set up their diplomatic relations in October 1973, but the relationship did not develop until recent years. Besides, bilateral trade has increased continually over these years, with trade surplus for Argentina. Viet Nam exported US$14.3 million worth of goods to Argentina and spent US$35.9 million on Brazilian goods in 2002. The respective figures in 2003 were US$16 million and US$135.52 million; US$20 million and US$171 million in 2004; and US$17.98 million and US$276.13 million last year.
Major Vietnamese exports to Argentina include consumer goods, handicrafts, engineering devices and vegetable oil. As for Viet Nam, Argentine investors are interested in infrastructure construction, oil and gas, biotechnology, use of nuclear power for peace purposes, etc. Argentina is now also willing to provide scholarships for Vietnamese students.
During his visit to Argentina on March 10-12, Vietnamese NA Chairman Nguyen Van An met with the Argentine President, chairs of the Parliament and the House of Representatives, and the Mayor of Buenos Aires. He also joined in opening a business forum, visited the Vietnamese Embassy and met with the Vietnamese community in Argentina.
Venezuela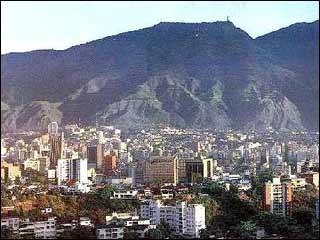 Caracas of Venezuela
Located in the north of Latin America, Venezuela is a major oil producer of the world. The oil industry is accountable for one-third of GDP, 80% of export profits and more than half of the Government's operation expenses.
Venezuela was an energetic supporter of Viet Nam during the Viet Nam War. Many current Venezuelan politicians supported Viet Nam in those days and are doing the same now. The two countries set up their diplomatic relations in December 1989. Bilateral trade is still small, but both countries see potentials for future growth.
NA Chairman An visited Venezuela on March 13-15. He met with the President, the top legislator, took part in opening a business forum, visited the Vietnamese Embassy and met with the Vietnamese community.
Source: International Affairs Review, Vietnam's Ministry of Foreign Affairs
Related Articles:
Viet Nam, Brazil to Further Co-operate