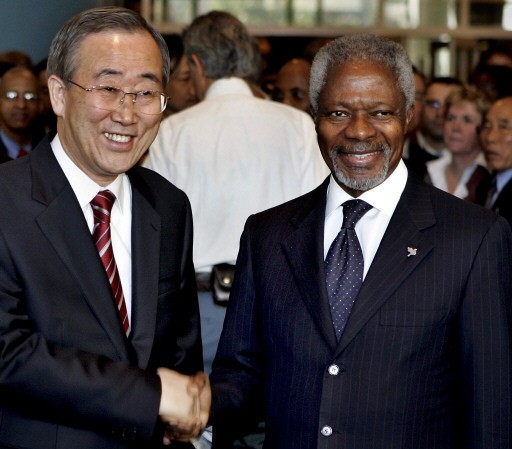 Newly-elected United Nations Secretary General Ban Ki-Moon (L), Foreign Minister of South Korea, shakes hands with outgoing UN Secretary General Kofi Annan (R) after the General Assembly's vote (AFP Photo)
Viet Nam congratulated Foreign Minister of Republic of Korea (RoK) Ban Ki-moon on his election as Secretary-General of the United Nations, said Foreign Ministry spokesman Le Dung on Oct. 14.
"Viet Nam congratulates RoK Foreign Minister Ban Ki-moon on being elected as Secretary-General of the UN," Dung told correspondents, "We believe that Ban Ki-moon will perform well in his position of Secretary-General of the UN and will make positive contribution to the development of the largest world body, particularly at a time when the UN is in a process of intensive reform, meeting the desires and interests of UN member countries."
The spokesman said that Viet Nam-UN relations has been strengthened and developed since the country became a full member of the UN on Sept. 20, 1977.
Over the recent years, UN agencies in Viet Nam have provided much support to Viet Nam in many areas and Viet Nam has always actively participated in and contributed to UN works, Dung noted.
"We hope that Viet Nam-UN relations will be further promoted in the coming period," the spokesman said.
Source: VNA