Several petroleum import tariffs were reduced from 20 percent to 10 percent yesterday.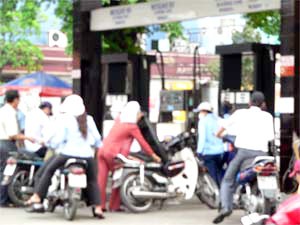 Vietnamese motorcycle riders will be happy if retail petrol prices drop thanks to the lower import tariffs (Photo: T.Kh.)
The oil products benefiting from the Finance Ministry's decision are light oil and oil products, leaded and unleaded gasoline, other kinds of gasoline for engines, diluents, light oil and other diluents used in gasoline blends.
 
The tariff on aircraft fuel remains unchanged at 15 percent, and the exemption of duty on kerosene, fuel for turbine aircraft, diesel fuel, and firing fuels still applies.
 
An industry analyst said the decision to cut some tariffs will allow petroleum importers and retailers to lower their prices as they could still make a profit with a 20% import tariff.
 
Others believe it is a measure to deal in advance with the likelihood of lower oil production by the Organization of Petroleum Exporting Countries, which is scheduled to meet in a few days' time to decide whether to cut back on production.