Viet Nam's 24% year-on-year increase in export revenue reported by the Ministry of Trade puts the year's US$38 billion target well within reach as the ministry quotes the total as of August at around US$26 billion.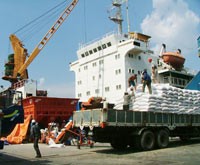 Vietnamese rice is loaded for export in Ho Chi Minh City.
Six key export earners -- rice, fisheries, textile-garment items, footwear, electronics and computer parts -- have generated more than US$1 billion each.
The country has shipped over 3.8 million tons of rice overseas, worth slightly more than US$1 billion, but both year-on-year quantity and revenue are down almost 10%.
However, garment and fabric exports, of which the USA is still the biggest buyer, have generated about US$4 billion, up 28% over the same period last year due to favorable conditions on overseas markets.
Footwear shipments have brought more than US$2.4 billion to Viet Nam, increasing by almost 22% year-on-year.
Wooden products, though not a key export earner, have turned out US$1.2 billion for Viet Nam, marking the highest growth rate among export items at 56.5%.