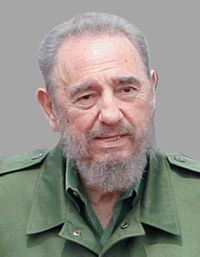 Cuban President Fidel Alejandro Castro Ruz
The Vietnam-Cuba Friendship Association sent a birthday card to Cuban President Fidel Castro Ruz on the occasion of his 80th birthday (August 13), noting that the presidents is not only a preeminent leader of the Cuban people, but a symbol of unyielding revolutionary will and noble international solidarity. He is also a great, close and loyal friend of the Vietnamese people.

The Association also sent its best wishes to the President regarding his recent intestinal surgery and current recovery.
The Cuban leader is known by Vietnamese people for his famous quote exemplifying the depth of respect the two nations have for each other: "For Viet Nam, we are willing to give even our own blood!".
Viet Nam Fatherland Front President Pham The Duyet on August 11 cabled greetings to the Cuban Committee for the Defence of the Revolution on the 80th birth anniversary of Cuban President Fidel Castro, August 13, and best wishes for his health recovery.
His message reads "Over the past 47 years, under the leadership of the Communist Party of Cuba (CPC) led by the President, the Cuban people have overcome numerous difficulties and hardships to achieve success. The Vietnamese people have closely followed the recent progress of the President's health and are happy to hear of his recovery after surgery."
Viet Nam's largest mass organisation leader concluded his message with wishes for a quick recovery to President Fidel Castro, who is also the CPC General Secretary, and hopes that he will continue to lead the Cuban revolution.