Despite the best efforts of Vietnam Electricity (EVN), the nation's biggest provider of electric power, the probability of a nation-wide power shortage taking place during the current dry season is high as is the likelihood of widespread power cuts.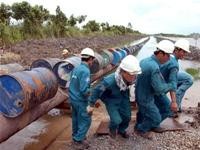 Workers of Ca Mau Power Plant 1 are busy constructing gas pipelines for its first generators for the nation's power grid (Photo: Tuoi Tre)

Pham Le Thanh, General Director of EVN, said that there may be a shortfall in power generation of up to 141 million kWh, even when all coal and gas resources and power purchased (increasingly) from China are factored in.

A reduction in the amount of water available to hydroelectric facilities along with increasing demand for power during the course of recent dry seasons are the main factors contributing to the problem.

Officials from the Hoa Binh Hydroelectric Plant, the largest in Viet Nam, said they are currently generating 8-10 million kWh per day, which is 5-10 million kWh per day lower than usual.

The lower output is due to a reduction in Hoa Binh Lake's water levels from 111 meters to 110 since the last period. If the plant were to produce 15 million kWh per day, existing water supplies would be consumed within one and a half months.
Meanwhile, the Phu My Thermal Power Plant, which supplies 47% of the nation's power during dry seasons, will have to halt production for two weeks in June to upgrade its drilling rigs with the upshot that EVN will be forced to purchase VND1,700 billion worth of oil for energy production from outside sources.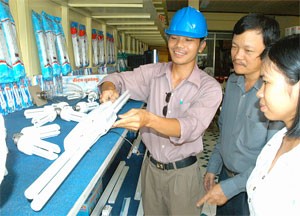 Using power-saving neon lights may be an effective way to prevent power shortage this dry season
In an attempt to prevent power shortages from occurring, EVN has been running plants in Can Tho, Thu Duc and Hiep Phuoc at full capacity since late February.
In addition, it has also called on local electricity departments to reduce consumption by 5 million kWh/day during March and imported more power from China.

In late February, EVN leaders toured 64 provinces and cities, announcing the probabilities of power shortages and asking local leaders to complete power-related public works projects as soon as possible.
They also called upon local citizenry to be as frugal as possible in their use of energy.