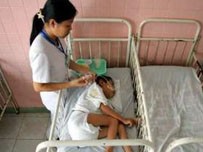 An Agent Orange victim in Viet Nam
The Central Committee of the Viet Nam Fatherland Front sent an open letter to a U.S. court on March 28 to request justice for dioxin victims in their lawsuit against U.S. chemical companies that manufactured the poison.
In their letter to the U.S. Court of Appeals, Second Circuit in New York, the committee said there was evidence that dioxin, commonly known as Agent Orange, seriously harmed Vietnamese population when it was sprayed by the U.S. military during their war in Viet Nam, which ended in 1975.

"In the world history of wars where chemical weapons were used , Viet Nam has suffered the most" the letter said. "Vietnamese AO victims' lawsuit against US chemical companies is the least one can do in search for justice for the victims."
 
Lawyers in the United States representing the Viet Nam Association for Victims of Agent Orange/Dioxin have said they intend to appeal against a U.S. judge's ruling in March 2005 that rejected their attempt to sue 36 chemical companies and put them on trial. The judge ruled against the association on the grounds that the use of herbicides by or on behalf of the United States in Viet Nam before 1975 was not a violation of international law.
The victims' lawyers said they would appeal to the higher court, in this case the U.S. Court of Appeals, Second Circuit, in March or April this year.
One of the arguments of the Vietnamese victims is that because the U.S. government is providing compensation worth billions of dollars to its war veterans and their offsprings for their sufferings from Agent Orange , the United States has admitted to the harmful effects of dioxin used during the war.

The governments of New Zealand and Australia, which sent their soldiers to support the Americans in the war, have said they would consider appeals for help from their AO-infected veterans.
The committee's letter also said that Viet Nam has sufficient evidence and scientific basis to prove the toxic and harmful effects of dioxin.
"The bottom line is whether the US Court could overcome obstacles against the lawsuit or not. When the Vietnamese AO victims' case comes up for trial, the defendants' arguments should not be allowed to tamper with the truth that US chemical companies have intentionally hidden over the past 40 years."