Torrential rain caused the worst landslides of the year in northern and central-highland provinces, claiming 12 lives and injuring others, said local authorities Friday.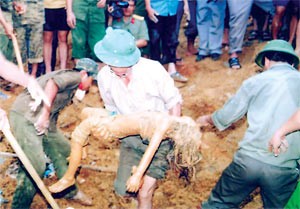 A rescue volunteer carries the body of a children who was dug out from a ruined house in the landslide region
This week's heavy rains caused a landslide, killing 8 migrant workers and leaving 7 others injured at dawn in the Cao Bang province. Disaster relief of VND1.5 million each has been delivered to the relatives of dead victims.

In another Cao Bang village, eight homes were wrecked off the river, six of which were completely destroyed by a landslide triggered by long-lasting rain.
Fortunately, no villagers were affected as landslide warnings went out in time and the village was prepared. However, the rain-induced landslide has caused property damage of around VND2 billion.
In Sa Pa district in the northwestern province of Lao Cai, rock-fall induced by the two-day rain fell on a vulnerable thatched cottage, killing one old man and injuring his wife, who were both sleeping at the time.
The old woman was then rushed to hospital and local authorities provided VND2.5 million to hold a burial service for the husband.
In northern province of Vinh Phuc, heavy rains triggered landslides that killed one fisherman, destroyed 2,000 hectares of farmland and flooded three homes while damaging the region's dykes. The flash flood also swept away one man in the nearby Phu Tho province.
In the Dak Glong highland district, a mass mudslide in the Quang Khe mountainous pass destroyed 150km of National Highway 28, the main road of the three neighboring regions, but fortunately no one was hurt as warnings and preparations went out days before.
Emergency crews flowed into the highlands area to rebuild the landslide-induced road, but it will take days to complete repairs.
In the nearby highland region of Lam Dong, flash floods and strong winds blew over a boat carrying two boys, one of whom was rescued while the rest's remains were found Thursday afternoon.
Related Articles:
Floods Force Mass Evacuations in Highlands and Delta
Foul Weather a Curse to Most, a Blessing to Some
Heavy Rains, Floodwaters Rise, Fishermen Missing
Storms Leave 800 Homes Submerged, One Dead in Northern Viet Nam

Mekong Delta Gears up to Prevent Flooding

Cao Bang Province Flooded by Heavy Rains
Hundreds People Evacuated from Area Affected by Prapiroon
Typhoon Causes Heavy Rain in Northern Viet Nam
Nearly 300 Fishing Boats Shelter from Storm
Typhoon Prapiroon to Hit Viet Nam Soon
Storm Prapiroon Hits Tonkin Gulf
Storm Prapiroon Brings Heavy Rain to Southern Viet Nam
Flood Predicted Possible in Southern Viet Nam