Viet Nam and Iran have held discussions to further cooperation in all areas and in sports and physical training in particular.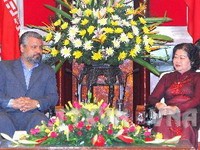 Vice President Truong My Hoa (R) receives Iranian Vice President  for Physical Education Mohammad Ali Abadi in Ha Noi on April 17

Vietnamese Vice President, Truong My Hoa held the talks with Iranian Vice President for Physical Education, Mohammad Ali Abadi, in Ha Noi on Tuesday.

Vice President Hoa spoke highly of Iran's recent development successes. She welcomed the Iranian Vice President's visit to Viet Nam, describing it as an important step in building closer ties between the two countries.

Vice President Ali Abadi spoke glowingly of Viet Nam's own development progress over the last 20 years of the renewal period and affirmed that Iran has always attached importance to developing its relationship with Viet Nam.

The two sides expressed their delight at the positive development of Viet Nam-Iran relations over the recent past and believed that with existing potential for cooperation in many spheres and joint efforts, bilateral ties will further develop in the future.

Vice President Ali Abadi, who is on a four-day visit through April 20, invited his host to officially visit Iran. Vice President Hoa accepted the invitation with pleasure.