Viet Nam and Laos should further enhance their multi-faceted relations, Vietnamese Prime Minister Nguyen Tan Dung said while meeting with Soulivong Dalavong, Chairman of the Laotian Planning and Investment Committee, on Wednesday.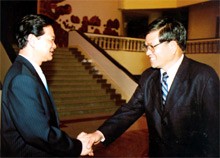 Prime Minister Nguyen Tan Dung (L) welcomes Mr. Soulivong Dalavong on August 9. (Photo: Viet Nam News Agency)
The PM said the two neighboring countries should create favorable conditions from both countries to further develop technical training programmes and their exchange of experiences in many areas.
Mr. Dung said the two nations need to facilitate cooperation among businesses in services, banking, the construction of hydroelectricity plants and the cultivation of rubber in Laos to benefit both sides.
He expressed his pleasure at the two countries' established friendship, which, he said, has continued to develop in all areas, particularly in economic cooperation and Viet Nam's investment in Laos.
The PM also noted that Viet Nam's investment in growing rubber in Laos has brought more jobs and income to workers, and that hydroelectric power projects have benefited both sides.
 
Mr. Soulivong Dalavong informed the PM of the results of his talks with officials from the Vietnamese Ministry of Planning and Investment, and of his visit to the northern province of Son La, affirming that he would continue to promote the excellent relations of the two countries' predecessors and further boost the bilateral economic development and investment in the future..