A foreigner can have the right to purchase one house in Viet Nam for a maximum possession time of 70 years, according to a Ministry of Construction's proposal being considered this weekend by the lawmaking National Assembly's Standing Committee.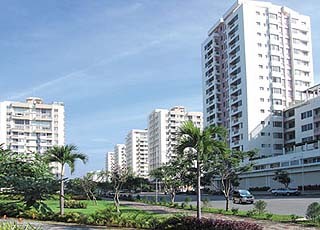 Phu My Hung Apartments in suburban Ho Chi Minh City
If the proposal is approved, each foreigner can buy and own only one house instead of having to rent as at present. Vietnamese laws currently do not permit foreign individuals and organizations to buy houses in Viet Nam.
This project would initially be implemented in Ha Noi and Ho Chi Minh City. If all goes well, it will be expanded nationwide after 3-5 years.
Under the proposal, foreigners eligible to purchase houses include investors, non-property enterprises, and people married to Vietnamese citizens.
Other requirements are that they must have lived in Viet Nam for at least one year, buy the house for themselves or their families and not for commercial purposes, and can only sell the house a year after receiving the ownership certificate.
Foreign companies doing business here can buy one or more houses for their foreign employees.
At the end of the 70-year period, if the title is not renewed, the owner is obligated by law to sell or gift the house.
The construction ministry hopes that besides facilitating living and working conditions for foreigners in Viet Nam, the plan will also help attract more foreign investment and develop the real estate market.
Under the Vietnamese Business Law and Housing Law, foreign entities can only rent land, build houses to sell or lease the houses.
Foreigners now rent over 1,300 houses and apartments in Ha Noi covering 220,000 sq.m and 4,000 houses covering 660,000 sq.m in Ho Chi Minh City.
Since 2004, approximately 81,000 foreigners have entered Viet Nam, nearly 25,000 of whom for investment purposes.
BOX
Six categories of foreigners eligible to buy houses:
1-People coming to Viet Nam for direct investments.
2- People who have contributed to Viet Nam and have been honored by ministries or higher-ranked agencies.
3- Cultural and scientific experts.
4- People married to Vietnamese citizens and living in Viet Nam.
5- Honorary citizens.
6- Foreign-invested enterprises not operating in the property sector.