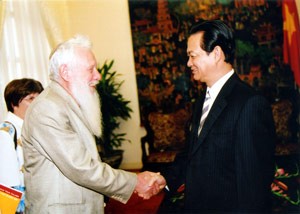 Prime Minister Nguyen Tan Dung welcomes Prof.Robert J.Aumann in Ha Noi
Vietnamese Prime Minister Nguyen Tan Dung on August 2 welcomed 2005 Nobel Prize in Economics Laureate Prof. Robert J. Aumann and other foreign economists attending the Public Economic Theory Conference in Ha Noi.
The Association for Public Economic Theory (APET) and the Ha Noi-based National University of Economics organize the conference.

Prof. Aumann said he was honored to visit Viet Nam for the first time and witness the country's renovation achievements. The Noble Laureate said he and his assistants were delighted to see Viet Nam's role in the region and the world has been continuously improved.
Prof. Aumann stressed that one of the breakthroughs in Viet Nam's socio-economic development strategy is to strongly develop education and training, focusing on basic sciences. He and APET economists want to keep cooperating with Viet Nam in academic fields and economic management.
PM Dung welcomed the Nobel Laureate and the world's leading economists taking part in the conference. The Government leader praised the initiative to organize the conference, which, he said, serves as an opportunity for Vietnamese and foreign economists to share their experiences in public economic theory in the market economy.
Mr. Dung said the conference is important to economic development and management in Viet Nam, paving the way for academic exchanges and encouraging research on the Vietnamese and Asian economies.
The PM stressed that in the coming years, Viet Nam will continue its innovative policies and accelerate its economic integration. Viet Nam is facing big challenges in implementing these policies for high economic growth, an equal society and sustainable development. Mr. Dung said he hoped foreign economic experts would continue to support Viet Nam in economic development and economic management theories.