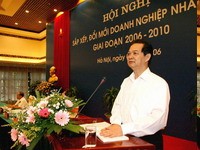 Prime Minister Nguyen Tan Dung speaks to businessmen at the conference on Saturday
Prime Minister Nguyen Tan Dung has set 2010 as the deadline for the equilization of state-owned enterprise (SoE) and asked for financial transparency during the process.
Mr. Dung made the order on Oct. 7 while chairing a conference on the SoE restructuring and reform for the 2006-10 period, which was also attended by Standing Deputy Prime Minister Nguyen Sinh Hung.
Central and local authorities have to overcome problems and difficulties to finalize the SoE restructuring process by 2010, focusing on the implementation of the Law on Land, property evaluation and solutions to redundant workforce, the PM emphasized.
He said although SoEs have played an important role in economic development, the country has to speed up the SoE restructuring towards the market economy in an effort to meet requirements emerging from the global integration and international competition.
PM Dung asked responsible agencies to scrutinize the evaluation of SoEs' property before they start equitization, ordering them to hire independent or international auditors in an effort to ensure financial transparency.
He said the Government has issued almost 40 legal documents which aim to increase the independence and obligations of SoEs as well as to lay a level ground for all economic sectors, which are essential for a market economy.
Of the 5,000 SoEs, over 3,000 have become joint-stock companies and most of them proved to operate efficiently, bringing more benefits to workers and increasing tax payment.
State-owned enterprises made up almost 40 percent of the gross domestic product and over 50 percent of tax collection.
However, 90 percent of the total 245,000 enterprises remain medium and small sized and the rate of one enterprise among every 300 citizens in Viet Nam is much lower than the average of one enterprise among every five citizens in developed countries, concluded the Government leader.