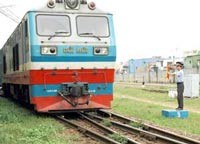 New Thong Nhat trains will carry passengers with low fares.
The Viet Nam Railway Corporation recently launched two low-cost Thong Nhat trains, coded TN1 and TN2, to lure more passengers.
The price for a hard seat on the Ha Noi – Sai Gon route is reduced to VND380,000.
Special concession for students and the elderly are available. For example, students can have a further 10% off from the reduced price.
The trains have 13 carriages, including nine offering 80 hard seats each;
The trains, which depart daily at 9.45AM from the two stations of Ha Noi and Ho Chi Minh City, will go on a 41-hour trip, calling at 26 stations.