On March 7,Viet Nam Ministry of Foreign Affairs spokesperson Le Dung expressed deep regret about the United State Department's 2006 Report on Human Rights which he said still contains subjective remarks on the situation in Viet Nam.
"It is the policy of our nation to constantly promote and protect human rights as they represent a central concept in our drive to build a strong, egalitarian country and society," said Mr. Dung in response to a reporter's question.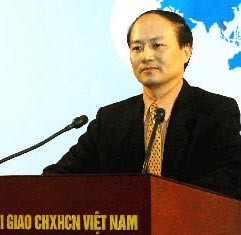 Mr. Le Dung
"The Government of Viet Nam has done its utmost to ensure the implementation of human rights by revising the legal system and undertaking concrete, sustainable measures for economic, social and cultural development so that the people will enjoy a better material and spiritual life in an equal, democratic and civilized society."
Viet Nam has made many significant achievements in developing and facilitating its citizens' rights to enjoy freedom in all areas of life. For example, in Viet Nam, nobody is arrested for his or her political views or religious associations - only people violating the law are dealt with based on the regulations of Vietnamese law.
Mr. Dung confirmed that Viet Nam's current legal system fully reflects all human rights which are clearly stated in the Universal Declaration of Human Rights and other UN conventions on human rights to which Viet Nam is a signatory.
In Viet Nam, freedom of speech and freedom of the press and information are clearly illustrated by the strong development of the press in both form and content, including the development of the Internet. However, like other countries in the world, the dissemination of information which violates moral principles, traditional values and customs and other laws is not allowed in Viet Nam.
Mr. Le Dung recalled President George W. Bush's visit to Viet Nam last November, during which the two countries' leaders acknowledged the importance of continuing to make progress in bilateral dialogues on human rights and reaffirmed that it should be conducted in a comprehensive, constructive and productive way.