Viet Nam and Switzerland have agreed to further intensify bilateral cooperative relations, particularly in economy, trade, investment, education and training.
Vietnamese President Nguyen Minh Triet and his Swiss counterpart Pascal Couchepin reached the consensus during their talks in Hanoi on August 4 following a State welcoming ceremony for the Swiss leader.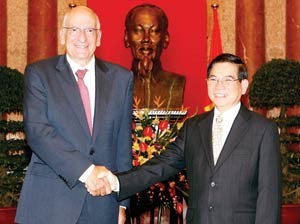 President Nguyen Minh Triet (R) meets with Swiss President Pascal Couchepin in Hanoi Monday
President Triet applauded President Couchepin's visit to Viet Nam, the first ever by a Swiss President, describing it as a new milestone in the traditional friendship and cooperation between the two countries.
Both leaders emphasized the importance of human resource development for each country's prosperity and agreed to promote cooperation in education and training.
President Triet applauded President Couchepin's approval of a plan to increase doctoral scholarships for Vietnamese postgraduates to study at Swiss universities.
The presidents praised cooperation agreements scheduled to be signed during the visit between the Hanoi National University and the Geneva University, and between the Ho Chi Minh City University of Technology and the Lausanne University.
President Triet thanked the Swiss Government and people for their fine sentiments and valuable assistance to Viet Nam during its past struggle for national independence as well as national construction and development.
The State leader also spoke highly of Switzerland's development support for Viet Nam in environmental protection, hunger eradiation and poverty reduction.
President Couchepin, who arrived in Hanoi on August 3 for a four-day visit, affirmed Switzerland will continue to back Viet Nam's international integration by jointly funding a project designed to support the country in the post-WTO period.
The Swiss leader said he believed that under the current leadership's judicious guideline and measures, Viet Nam will overcome temporary economic difficulties and remain an attractive destination for foreign investors, including those from Switzerland.
During the talks, host and guest discussed international issues of mutual concern, and agreed to boost cooperation at international forums and organizations.
President Couchepin congratulated Viet Nam on its successfully fulfilling the rotating chair of the United Nations Security Council in July and wished Viet Nam success in its capacity as a non-permanent member of the council in the 2008-2009 term.
At a press briefing after the talks, President Triet said both sides recognized recent positive progress in bilateral relations, especially in trade, economy, education and investment.
The two sides agreed upon a number of measures to beef up cooperative ties in the near future, particularly in education and training, he said.
"Viet Nam highly appreciates the role of Switzerland in Europe and the international arena and wants to promote diplomatic and economic ties with Switzerland," the Vietnamese President said.
President Couchepin said Switzerland wants to strengthen cooperation with Viet Nam in education, training, science and technology.
As a powerful country in economy, science and technology, Switzerland is willing to share scientific and technological experience with Viet Nam to help raise value and productivity of goods production, he said.
The Swiss President hailed Viet Nam's efforts in implementing accession commitments to the World Trade Organization (WTO), saying these are considered as a foundation for Viet Nam to foster economic development and cooperative relations with Switzerland.
"Switzerland is willing to help Viet Nam with post-WTO experiences," he said.