Viet Nam and Thailand officially established diplomatic relations on August 6, 1976. The past 30 years have marked many steps of fine relations between the two countries.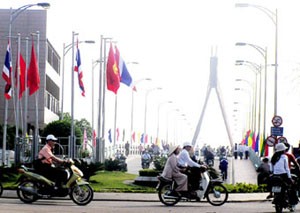 The central city of Da Nang, Viet Nam is the place where the first Joint Cabinet Meeting was held.

As ASEAN members, Viet Nam and Thailand have many things in common. Particularly, from 1991 to date, bilateral relations have been gradually consolidated and developed, especially when Viet Nam officially joined ASEAN in 1995. The two countries have paid many high-ranking visits to each other.

Notably, on February 20 and 21, 2004, the governments convened the first Joint Cabinet Meeting in Da Nang City of Viet Nam and Nakhon Phanom Province of Thailand. The two sides have so far signed nearly 30 agreements.

Viet Nam and Thailand also held the second meeting of the Joint Working Group on political and security affairs from September 7 to 8, 2005 in Ha Noi, which aims to realize the agreements concluded at the first meeting, including the draw-up of two important documents, "Vietnam-Thailand Joint Security Viewpoint" and "Action Plan on Vietnam-Thailand Political and Security Cooperation".

Thailand is a traditional agriculture country, known as the world's first exporter of rice for many years. In the 1970s, Thailand applied the "export-oriented" policy, with its major export markets of ASEAN, the US, Japan and EC. In recent years, industry and service have gradually replaced agriculture as the important sectors of Thailand's economy.

Since 2000, Thailand's tourism industry has incessantly developed, making up 7.7 percent of GDP and providing jobs for around 3.3 million people with annual income of 4 billion bahts.

Thailand is seen as an attractive destination in the region with many beauty spots, especially ancient pagodas, celebrated beaches, world's heritages and diverse culture.
It is expected that Viet Nam and Thailand will establish a sub-committee on tourism under Vietnam-Thailand Assistance and Cooperation Committee to foster cooperation in this sector.

Economically, Thailand has actively promoted investment and business in Viet Nam, particularly economic, trading and investment activities between Thai northeastern provinces and Vietnamese central provinces along roads no.8 and 9. Bilateral trade turnover in 2005 exceeded US$3.1 billion. The world's two leading rice exporters also plan to cooperate in this sector.

In the first 4 months of 2006, bilateral export-import turnover reached VND1.134 billion, of which export is USD298 million and import is USD836.

Vietnamese main products exported to Thailand are computers, electronic products and components, crude oil, seafood, coal, peanuts, plastics, cosmetics, etc. Imported products from Thailand are petrol, material plastics, components and motorbike spare-parts.

The two sides also cooperate in education and culture. Annually, the Thai government offers many scholarships to Vietnamese students and civil servants. The two countries are actively strengthening ties in technology, health, foreign languages and IT training in the framework of undergraduate and graduate training cooperation.

In the framework of regional and international forums such as ASEAN, ACMECS, WEC, GMS, Viet Nam and Thailand always wish to boost bilateral cooperative relations.
Thailand supports Viet Nam's accession to WTO and Viet Nam's non-permanent membership of the UN's Security Council in 2008-2009 term. Viet Nam supports Thailand's Deputy PM Surakiart Sathirathai as a candidate for the UN Secretary General in the next term.