A group of children and youths from ASEAN member countries, ages 12 to 18, will gather at the fourth ASEAN Children's Forum in Hà Nội from June 20-23.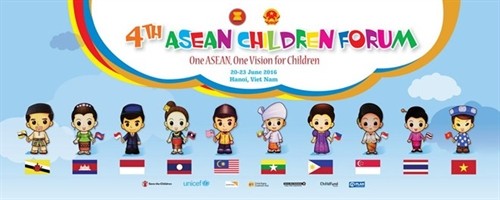 The forth ASEAN Children's Forum is scheduled to open in Hà Nội on June 20. – Photo Vietnamplus
This year's forum will be held following the establishment of the ASEAN Community in December 2015, with priorities given to the implementation of commitments to promoting and protecting the rights of children and enhancing their special status in society.
Heading towards a friendly ASEAN Community, where all children have the rights to share and enjoy common values, is one of the goals of ASEAN.

For these reasons, Việt Nam has chosen the theme, "One ASEAN, One Vision For Children" for this year's forum.

The forum is aimed at contributing to building a friendly ASEAN community that is close to all children in the region, along with enhancing the participation of children and listening to their voices, and promoting children's rights.

During the event, children from the ten member countries of ASEAN will discuss issues affecting them, including preventing children trafficking within ASEAN, protecting children in the Internet environment, preventing violence against children, as well as the impact of climate change on ASEAN children.

A recommendation or a general declaration about ASEAN children will be put forward at the forum and submitted to ASEAN Ministers in charge of social welfare for consideration.

Also, Việt Nam held a drawing competition from March 3 to May 10 under the theme ASEAN Vision 2025 to promote understanding of children in the region about ASEAN. The contest drew millions of children across ASEAN who expressed their viewpoints and wishes about the ASEAN Community through their works.

An award ceremony for the competition and an exhibition displaying their works will be held on the sidelines of the ASEAN Children's Forum.

Since 2010, the biennial ASEAN Children's Forum has become one of the main activities of member countries of ASEAN. Member countries will take turns sponsoring the forum, which gives ASEAN countries an opportunity to hear from children and youth, and creates opportunities for children to express their viewpoints and send messages to government officials of ASEAN countries.