The bilateral agreement on adoption between Viet Nam and the U.S. will expire on September 1, 2008, said Mr. Vu Duc Long, the head of Viet Nam's International Adoption Agency.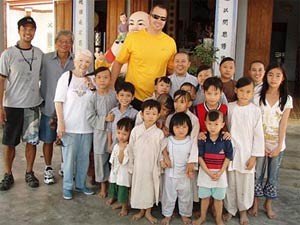 Vietnamese orphans greet visitors from the US
This information was released at the conference held by the Ministry of Justice on Friday to review three years of implementation of the adoption agreement between the two countries.
The reason for the termination is that both sides have decided not to make a renewal to the agreement, said Mr. Long
By the end of July, about 1,700 disadvantaged Vietnamese children had been adopted by American families, reported the agency.
Over the past three years, 42 adoption organizations in the U.S. have offered humanitarian supports worth US$5.5 million to a lot of children in many provinces and cities in Viet Nam, the conference was told.
However, a lack of financial transparency and fierce competition among American adoption organizations have resulted in incorrect information that affects the humanitarian nature of the adoption, said the agency.