Viet Nam and Venezuela will cooperate in developing potentially huge opportunities in the oil and gas sector, as the two signed an agreement on 1st August, the last day of Venezuelan President Hugo Chavez's first official visit to Viet Nam.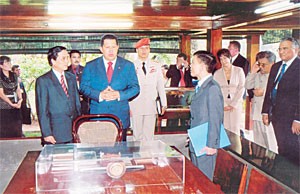 Venezuelan President Hugo Chavez (2nd,L) visits the Presidential Palace

Viet Nam and Venezuela state oil firms, Viet Nam Petroleum Corporation (PetroVietnam) and Venezuelan Petroleum Corporation, signed a letter of intent to cooperate in the oil and gas sector.

Venezuelan President Hugo Chavez met with representatives from Vietnamese enterprises at the Vietnam Chamber of Commerce and Industry (VCCI) to discuss Venezuela's economy and the government's policies towards foreign enterprises.

The two sides hope Venezuela will be a link for Vietnamese products to enter the Latin American markets and Viet Nam will be a gateway for Venezuela to penetrate the Southeast Asian and Asian markets.

At the farewell ceremony held on the same day, President Chavez affirmed that the pact signed during his visit represents firm ground for the two countries to steadily expand their ties in the near future. He described the bilateral cooperation in the oil and gas sector as "a javelin at the vanguard" of the two countries' future business relations.
Mr. Chavez said he has instructed Venezuelan Finance Minister to set up an US$100-million fund to implement the accords signed during the visit.

Vietnamese President Nguyen Minh Triet praised Venezuelan President's first visit to Viet Nam, saying it is an important landmark of bilateral relations that brings mutual understanding and confidence to the two nations.

During the visit, the two countries' leaders agreed on the establishment of an all-around cooperation and oriented long-term plans to help foster bilateral cooperation.

They also issued a joint declaration voicing the two States' viewpoints and directives for bilateral ties in the future.

The two leaders agreed that although geologically apart, Viet Nam and Venezuela have the same aspiration for peace, stability, cooperation and development.

They also stressed the importance of boosting trade relations, and sharing experiences and technology in the energy, mine exploration and agriculture sectors.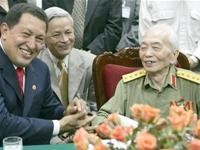 Mr.Hugo Chavez (L) and General Vo Nguyen Giap
Mr. Chavez also paid tribute to President Ho Chi Minh at his mausoleum before visiting the ex-President's residency and office at the Presidential Palace and paying a courtesy visit to General Vo Nguyen Giap at his home.

General Vo Nguyen Giap gave Mr. Chavez two books entitled "Ho Chi Minh Thoughts" and "Dien Bien Phu", and received a gift from Mr. Chavez, a sword replicating that of Venezuelan hero Simon Bolivar in 1824 who he led the struggle to liberate Venezuela.