Ho Chi Minh City and Hai Phong were listed among the top ten cities most at risk of catastrophic floods driven by climate change, according to the Organization for Economic Cooperation and Development (OECD).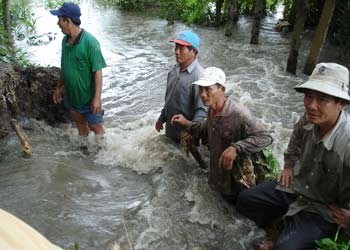 High tides in district 12 of Ho Chi Minh City
An OECD report said that of the Top-10 most exposed coastal cities in 2070, nine are in Asia. They are Kolkata, Mumbai, Dhaka, Guangzhou, Ho Chi Minh City, Shanghai, Bangkok, Rangoon, Miami and Hai Phong.
HCMC was also on the list of top 10 cities most at risk, in terms of exposed population, along with Mumbai, Guangzhou, Shanghai, Miami, Kolkata, Greater New York, Osaka-Kobe, Alexandria and New Orleans.
Adding to the mounting evidence of a world undergoing climate change, Viet Nam has been experiencing changes in temperature, sea level and rainfall.
A report by Viet Nam's Institute of Meteorology and Hydrology shows an average rise in temperature of around 0.1 degrees Celsius and a rise in sea level of 2.5-3cm per year over the past decade.
Some experts said sea levels are likely to rise by 1m, causing severe floods in the Mekong Delta by 2100.
According to the UNDP Human Development Report 2007/2008, if the earth's temperature rises by two degrees Celsius, some 22 million people in Viet Nam will become homeless and 45 percent of agricultural land in the Mekong Delta will be lost to rising tides.