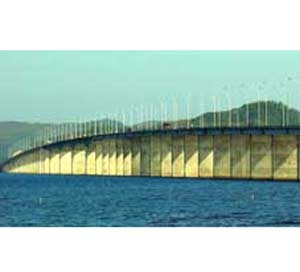 Viet Nam's longest sea-crossing Thi Nai Bridge
The longest sea-crossing bridge of Viet Nam Thi Nai today opens to traffic after over four years of construction, linking the Nhon Hoi Economic Zone in the Phuong Mai Peninsula and the Quy Nhon City in the central province of Binh Dinh.
The Thi Nai Bridge, more than 2,500 meters long, and 15.5 meters wide is expected to facilitate transport and improve traffic flow to the industrial zone, attracting more investors to develop the coastal area in Binh Dinh Province.
The total investment of the Quy Nhon-Nhon Hoi bridge and road construction, which is more than 7 kilometers long, was nearly VND600 billion (over US$37.29 million).