Viet Nam's press circle gathered for an international conference on Friday entitled "Globalization and the development of Viet Nam's mass media".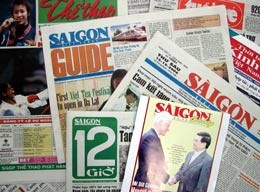 Viet Nam' press agencies will face global competition, particularly after WTO entry (Photo: T.C)

Some 100 Vietnamese and foreign scientists, lecturers and journalists attended the conference held by the Viet Nam Journalism Association and the Institute of Press and Propaganda.

High on the workshop's agenda are the impacts globalization will have on Viet Nam's mass media as well as its capacity for development during global integration.

Delegates also debated the issue of national identity facing Viet Nam's mass media and discussed how to preserve traditional values in the wake of globalization.

The discussion aims to help Viet Nam's policy makers learn from the experiences other countries have had in trying to effectively manage press agencies in the face of global competition.