Viet Nam Commission for Population, Family and Children (VCPFC) held a conference to review its 2001-2005 tasks and selected a proper direction to develop for the 2001-2005 period.

Delegates from the commission reported that although the commission has gained great achievements for the last-five-year period, the results have been inconsistent. Viet Nam's population by statistics is 83.12 million people at the end of 2005, exceeding the population forecast by 700,000 people. Viet Nam's population growth annually is over 1.13 million.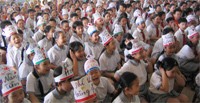 The young generation plays an important role to the future of the country
However, the risk of population overgrowth still exists. Similarly the government is unable to completely solve the problems of homeless children and free healthcare treatment for children under-six.

Addressing the conference, Prime Minister Phan Van Khai asked the executive committees of party hierarchy, the local authorities to fully understand the importance of issues relating to population, family and children since they may have undesirable effect on the national development achievement as well as our race evolution.

As far as family and children are concern, the PM emphasized Viet Nam made some mistakes in educating the young generation, as a result, many young people have a self-centered attitude and irresponsible behavior to the country.

It should therefore be imperative to educate children right manner, love for poor people, the will to better themselves and respect for the law.
"Only when we have a young generation of high moral standard, the future of the country is assured." The Prime Minister added.