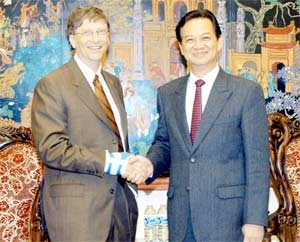 Prime Minister Nguyen Tan Dung receives Bill Gates on April 3.
Viet Nam's immunization program for children is the most effective in the world providing a model for future programs elsewhere in the world, said the president of Microsoft Corporation Bill Gates.
Prime Minister Nguyen Tan Dung received Mr. Gates and his wife Melinda yesterday, who are currently visiting Viet Nam in their capacity as representatives of the Bill and Melinda Gate's Foundation.
The prime minister said he was very happy to meet Mr. Gates again adding that, since his visit to Viet Nam in April of last year, there have been many positive changes in relations between Microsoft and Vietnam in general, for which the Prime Minister expressed his appreciation.
At the reception, Mr. Gates expressed his wish to bring many new vaccines to the Vietnamese people in the near future, saying that the main impetus for this second visit was to stimulate charitable activity in the medical field. According to Mr. Gates, the Bill and Melinda Gates Foundation aims to promote global healthcare, reduce poverty and boost education.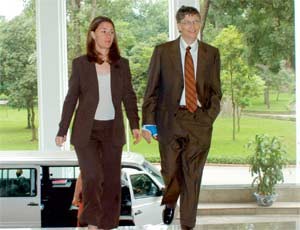 Mr. Bill Gates and his wife visit the Government Office early April 3.
Mrs. Gates said she was deeply impressed by Viet Nam's efforts to boost socio-economic development and provide medical care for its citizens, particularly the young. She said that for Viet Nam to have 90% of its children immunized against fatal diseases was impressive when one considers how many children that number represents.
Earlier in the day, the couple held talks with many local health authorities to learn about the Vietnamese state of affairs concerning fatal diseases such as HIV/AIDS, tuberculosis and malaria.
According to Mr. Nguyen Tran Hien, Director of the National Institute of Hygiene and Epidemiology, the couple's visit to Viet Nam demonstrated their foundation's determination to assist Viet Nam in community-based medical activities. He said Viet Nam was the first country to receive support directly from the foundation without going through intermediate organizations.
During his visit, Mr. Gates also discussed a vaccination project aimed at the human papilloma viruses (HPV) with local health authorities. As a result, the foundation will provide some 800 Vietnamese women with a total US$245,000. The HPV vaccination program will also be carried out in other countries including Peru, India and Uganda.
Related link: