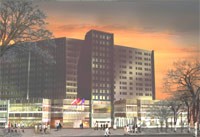 Viethaus AG
Viethaus AG-Viethaus Trade, Culture and Tourism Promotion Center- a joint-venture of the Southern Airports Services Company (SASCO) and the German HMSKY GmbH Company was opened in Berlin.

The center was built on an area of 4,500 square meters in the heart of Berlin with the total investment capital of EUR5 million.
Viethaus AG does the business in Export and Import; retail trade; conference room, guest house and office for lease; hotel; Vietnamese restaurant; spa beauty salon and so on.
Reportedly, Viethaus AG is Viet Nam's first abroad invesment project licenced in Germany. Director of the German HMSKY GmbH Company Nguyen Xuan Hung is president of the board of director.