Vietnam has actively joined and made significant contributions to activities of the United Nations Economic and Social Council (ECOSOC) in the first year as member of the council, said Ambassador Nguyen Phuong Nga, Head of the Vietnam Mission to the UN.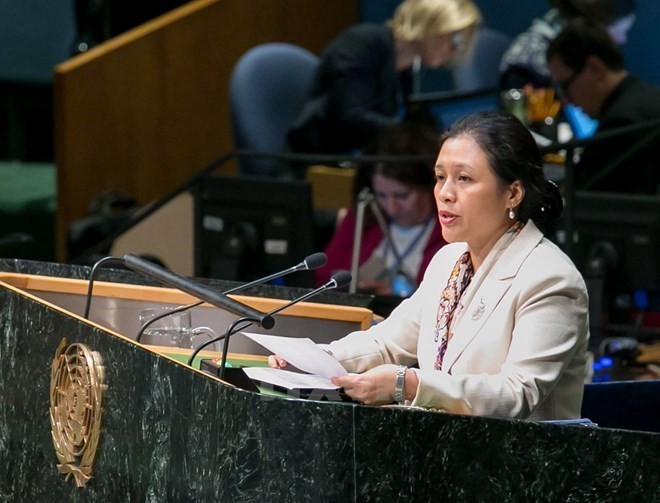 Ambassador Nguyen Phuong Nga, Head of the Vietnam Mission to the UN (Source: VNA)
Talking to Vietnam News Agency correspondents based in New York on October 20 on the occasion of marking one year since Vietnam was elected as the member of the council, the ambassador said the UN member countries have began the implementation of the 2030 Agenda with new goals, which require countries to change development thought, promote resources and renew management apparatuses.
Vietnam has been active in performing the agenda by including sustainable development goals in its national development programmes, Nga stressed.
According to the ambassador, Vietnam contributed to improving the operation of the UN, aiming to build a new cooperation model between the UN and its member states. It also gave recommendations to call for developed countries' support for developing nations in terms of capital and technological transfer.
In 2017, Vietnam's activities in ECOSOC will focus on increasing awareness of the importance of the agenda on sustainable development and engaging in the perfection of the UN's specialised agencies and funds to optimise their contributions to realising sustainable development goals, towards benefiting UN member nations, especially developing countries.
As a responsible country in the international community and a member of ECOSOC, Vietnam is willing to share its experience and join hand with international friends to help underdeveloped and landlocked countries, Nga stated.
The Vietnam Mission to the UN is coordinating with home agencies to schedule a conference on how to assist landlocked countries in implementing sustainable development goals, she added