Vietnam has been considered one of the world's and the Asia's top consumers of alcoholic beverages with 77 percent of its men drinking beer and other kinds of alcohol, Deputy Health Minister Nguyen Thanh Long said at a conference on studying drinking alcohol in the country on September 26 in Hanoi.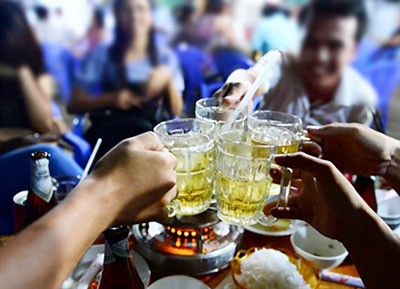 Vietnam consimes 3.4 billion liter of beer annually (Photo: SGGP)
As per the latest research by the Ministry of Health and the World Health Organization announced at a conference, Vietnam was ranked second in Southeast Asia, 10th in Asia, and 29th in the world in terms of alcohol consumption.
 
Worse, consumption index of alcohol hike more than the index of socioeconomic, medicine and education development.
 
The research pointed out that 77.3 percent of its men usually drink beer and other kinds of alcohol and this figure is the highest in the rate of male. It means every 10 Vietnamese men, seven of them are often drunk.
 
Meanwhile, statistics showed that Vietnam consumes 3.4 billion liter of beer and over 70 million liter of wine annually. The figure has excluded 200 million liter of wine cooked by residents. Averagely, a Vietnamese adult drinks around 27.4 liter of alcohol per year, an alarming number.
 
The excessive consumption of alcoholic drinks in the Southeast Asian country surely produce great profit for traders but country's economy gains very small from beer and wine consumption because of highest health risks. 
Medical researches showed that over 200 illnesses relating to alcohol consumption include cancer, heart diseases, diabetes, digestive diseases, alcohol-induced mental disorders and poisoning.
Worse, alcohol abuse is major cause of family violence with 68 percent, nearly 40 percent of society disorder and traffic accidents. Reports by WHO in Vietnam, nearly 60 percent of traffic accidents caused by drunk people; among them, more than 25 percent are serious cases with many deaths and injuries.
 
Science proves that drivers having alcohol level of over 100 mg per 100 ml of blood or over 0.5 mg per liter of breath will be slightly stirred; of 0.1mg per liter of breath will experience difficulties in walking and of 0.2mg per liter of breath will stagger.
 
To prevent bad effects caused by drinking alcoholic beverages, the government and related ministries and departments have issued many regulations to restrict consumption of beer such as increase in fines for drunk drivers. Yet these penalties seem not to be effective in deterring people from drinking beer and wine.
 
The Ministry of Health and related agencies issued a stricter law including banning sales of wine after 10 PM, banning selling wine to teenagers and prohibiting wine advertisement in public places.

Deputy Health Minister Nguyen Thanh Long warned Vietnam will be ranked first in the world in alcohol drink consumption not 29th position like present if the country does not have an action plan against against excessive beer consumption.

Moreover, when it comes to increase people with non-communicable diseases in Vietnam, a delegation from The Joint Mission of the United Nations Interagency Task Force (UNIATF) on the Prevention and Control of Non-communicable Diseases recommended Vietnam should soon issue law against alcohol consumption.
WHO's Senior advisor Nicholas Banatvala stressed that if Vietnam raise tariff on tobacco and issue law against alcohol consumption, it will save thousand lives and cut medical expenditure in next years.