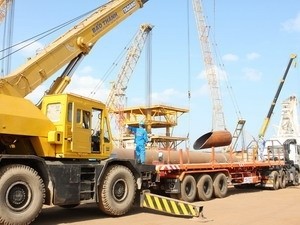 Photo: Vietnam News Agency
The ninth meeting of the Vietnam-Australia Joint Trade and Economic Cooperation Committee was held in Melbourne on June 25 under the chairmanship of Minister of Planning and Investment Vo Hong Phuc and Australian Minister for Trade Simon Crean.
The meeting covered a broad range of bilateral, regional and multilateral issues of mutual interest, focusing on key areas of potential growth in the bilateral commercial relations, including education and training, infrastructure, and resources and the environment.
The ministers welcomed the establishment of the Australian-Vietnam Comprehensive Partnership in September 2009 that elevated the bilateral relationship.
The ministers noted the encouraging five-year trend growth in two-way goods and services trade, notwithstanding the decline in goods trade in 2009.
Crean welcomed real GDP growth in Vietnam of over 5 percent in 2009 and the Vietnamese government's projection of 6.5 percent growth in 2010. He underlined the importance of continued market-based reform in Vietnam and registered Australia's interest in the issue of price controls.
Both officials applauded the support provided by Australia to implement reforms in Vietnam in its transition to a market economy as well as the upcoming Australia-Vietnam Agriculture Cooperation Programme which is aimed at strengthening Vietnam's Sanitary and Phyto-Sanitary (SPS) capacity.
They noted that education and training represented Australia's largest services export to Vietnam and underlined the significance of the Joint Working Group on Education and Training, recently agreed by Australia and Vietnam.
Phuc reiterated the priority that Vietnam places on upgrading its infrastructure to achieve sustained economic growth and welcomed the contribution that Australian companies had made to that objective.
Crean reiterated Australia's commitment to the design phase of the Cao Lanh Bridge, part of the Central Mekong Delta Connectivity Project, subject to feasibility being established.
On multilateral and regional issues, Crean welcomed Vietnam's chairing of ASEAN and the East Asia Summit in 2010, and underlined Australia's desire to work closely with Vietnam to enhance regional integration.
The ministers affirmed that the early conclusion of the World Trade Organisation (WTO)'s Doha Development Agenda would provide benefits to all WTO members, especially to developing members.
They noted the progress made in the Trans-Pacific Partnership (TPP) negotiations to date, reaffirmed the strong cooperation between Australia and Vietnam in the Asia-Pacific Economic Cooperation (APEC) forum and agreed that Vietnam and the Cairns Group would continue their cooperation in the Doha Development Agenda negotiations.
Phuc and Crean welcomed the entry into force on January 1, 2010 of the ASEAN-Australia-New Zealand Free Trade Agreement (AANZFTA), encouraged all parties to ratify the agreement expeditiously, and agreed to continue efforts to maximise the benefits of the agreement.
The two ministers agreed to hold the next meeting of the committee in Vietnam in 2011.