The Vietnam General Confederation of Labour (VGCL) has strongly condemned China's violent acts targeting Vietnamese fishermen within the waters of Vietnam, at the 103rd International Labour Conference of the International Labour Organisation (ILO) in Geneva.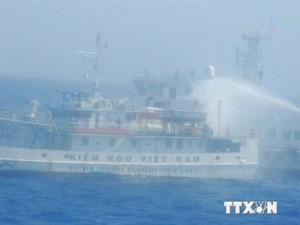 Chinese ship fires water cannon at Vietnam Fisheries Surveillance Force vessel (Photo: VNA)
In his speech delivered at the conference's June 10 sitting, VGCL President Dang Ngoc Tung spoke on detail about China's acts in violation of international law since it illegally positioned its oil rig Haiyang Shiyou-981 in Vietnam's exclusive economic zone and continental shelf.
He particularly objected to China's inhuman acts against Vietnamese fishermen who were undertaking their regular operations in their traditional Hoang Sa fishing grounds.
Chinese ships have continuously constraining, driving away and ramming into Vietnamese fishing boats, causing damage to many boats and injuring many people on board, Tung said.
More seriously, Chinese forces beat and injured many Vietnamese fishermen, even sinking a Vietnamese fishing vessel, putting the on-board fishermen's lives in danger, stated Tung.
The Vietnamese official spoke highly of the main contents discussed at the May 28-June 12 conference, including the amendments to the 1930 Forced Labour Convention and the implementation of the ILO Declaration on Social Justice for a Fair Globalisation passed at the 98th International Labour Conference in 2008.
He reported that over the past times, the VGCL has actively coordinated with Vietnamese and ILO social partners to carry out the 2012-16 Vietnam-ILO National Cooperation Programme on Sustainable Employment, the "Better work" project and the Tripartite Action to Protect Migrant Workers within and from the Greater Mekong Sub-region from Labour Exploitation.
During its stay in Geneva from June 9-12, the Vietnamese delegation met ILO Director General Guy Rider, Regional Director for Asia and the Pacific Yoshiteru Uramoto, and Director of ILO Bureau for Workers' Activities Helena Andre.
It also had meetings with trade union delegations from Singapore, Laos and Cuba and attended the open Presidential Council of the World Federation of Trade Unions.-VNA