On the last day of his visit to Vietnam, the Bulgarian president, Georgi Parvanov, and his Vietnamese counterpart, Nguyen Minh Triet, January 31 witnessed the signing of cooperative documents, including agreements on legal and judicial cooperation, and cultural cooperation in 2009-2012.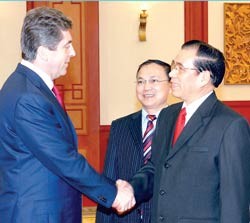 General Secretary Nong Duc Manh (R) welcomes Bulgarian President Georgi Parvalov in Hanoi on January 31.


The two sides also released a joint communiqué, which focused on developing the multifaceted relations between the two countries, exchanging high-level visits and supporting each other at international and regional forums. The two sides also agreed to boost cooperation within the ASEM framework and EU-ASEAN dialogue.

In a joint press conference, President Parvanov said Bulgaria would support Vietnam in further cooperation with EU countries. The two leaders agreed to boost their cooperation in fields in which Bulgaria has strength, such as the environment, energy, agriculture, fruit processing, pharmaceuticals, transport, education, culture, tourism and labor exports.

The two countries would also strengthen cooperation by twinning towns and cities, as well as building joint ventures in each country, the two leaders agreed.

President Nguyen Minh Triet highly valued the visit by Bulgarian President Parvanov, saying it signaled a new step in bilateral ties. He also thanked Bulgaria for its help in Vietnam's struggle for independence, in joining the WTO and becoming a non-permanent member of the United Nations Security Council.

President Triet said Vietnam would create favorable conditions for Bulgarian businesses to invest in the country, thereby expanding its investment cooperation with other ASEAN countries. He also said he hoped Bulgaria would help Vietnamese goods penetrate the European market.

Also on January 31, President Parvanov held talks with General Secretary Nong Duc Manh and National Assembly Chairman Nguyen Phu Trong. He briefed them about the successful results of his talk with President Triet.

General Secretary Manh said Vietnam would try its best to develop traditional relations between the two countries. He also expressed thanks to Bulgaria for its assistance to Vietnam in its course of building and developing the country. 

President Parvanov and Chairman Trong agreed to boost coordination in building laws to help strengthen the relationship between the two countries. Mr. Trong expressed his thanks to Bulgaria for its help to Vietnamese people and students who are living and working in the country. 

During his stay in Vietnam, President Parvalov and his entourage laid wreaths at the Monument to Vietnamese Heroes and Martyrs, and the Ho Chi Minh Mausoleum, and visited Ha Long Bay and the Temple of Literature (Van Mieu).

On January 30, the Bulgarian leader and his wife paid a visit to the northern province of Quang Ninh and voted Ha Long Bay as one of the world's seven natural wonders.