Ambassador Nguyen Phuong Nga, head of the permanent Vietnam Mission to the United Nations, has called on the UN to continue upholding its central role in building a world order in line with the principles of international law.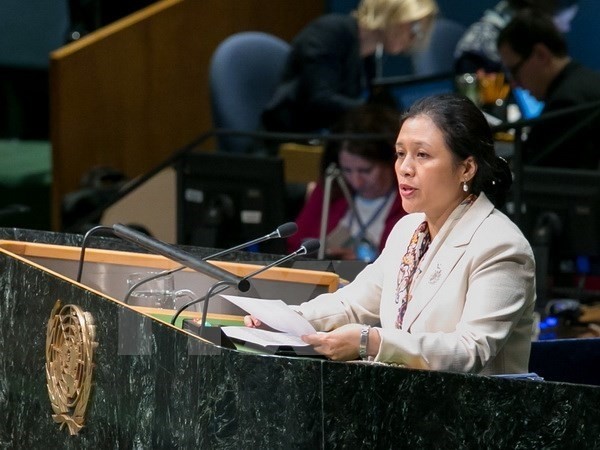 Ambassador Nguyen Phuong Nga (Source: VNA)
She made the call at a session discussing jurisdiction at regional and global levels held by the 71st United Nations General Assembly's International Law Commission on October 5-6.
Nga said Vietnam is pushing ahead with judicial reform and strengthening its legal system to ensure democracy, human rights, civil and economic activities of the people. The country has also joined the International Convention on the Suppression of Acts of Nuclear Terrorism and is actively preparing for the ratification of the Paris Agreement on Climate Change.
The ambassador noted that unilateralism, politics of violence, the use of force or threat to use force are hindering the peaceful settlement of disputes and conflicts, adding that all disputes must be settled by peaceful means as stipulated in the Article 33 of the UN Charter, including legal processes.
According to her, the Asia-Pacific is facing many risks of conflict, including the East Sea issue, which threatens peace, security and prosperity in the region and the world.
Vietnam is deeply concerned with the recent complicated developments in the East Sea and calls on parties concerned to exercise self-restraint, settle disputes by peaceful means in line with international law, including the 1982 UN Convention on the Law of the Sea, respect diplomatic and legal processes, fully implement the Declaration on the Conduct of Parties in the East Sea and push forward the completion of a Code of Conduct in the East Sea, she said.