Vietnam and China have agreed to promote high-level diplomatic exchanges with the aim of strengthening the ties of friendship and comprehensive cooperation between the two countries.
Vietnamese Foreign Minister Pham Binh Minh began an official three-day visit to China on February 12 at the invitation of his Chinese counterpart Yang Jiechi.
Meeting in Beijing on February 12, the two FMs reviewed the development of Vietnam-China relations in various fields over the past years, and discussed international and regional issues of common concern as well as measures to promote the strategic partnership between the two countries.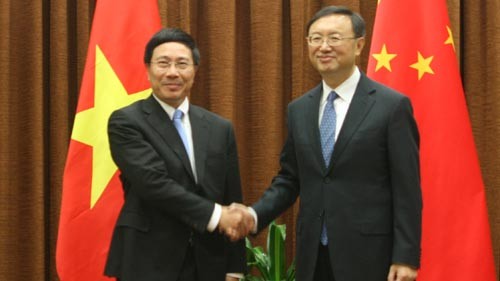 Vietnamese Foreign Minister Pham Binh Minh (L) and his Chinese counterpart Yang Jiechi
Chinese FM Yang described Mr Minh's visit as a positive contribution to realizing the common perception of senior leaders from both countries.
Both sides were pleased with significant progress in bilateral relations especially since Party General Secretary Nguyen Phu Trong's visit to China and Chinese Vice President Xi Jinping's visit to Vietnam late last year. They said the relations between the two Parties and states have continued to grow and flourish in the interests of their peoples and for the sake of peace, stability and development in the region and the world.
The regular meetings and contacts between senior leaders have provided a political foundation for promoting bilateral cooperation in economics, trade, investment, education, science and technology, and dealing with issues arising from relations between the two countries.
The two FMs underlined the need to bring into full play what both countries have achieved in recent times to boost cooperation in potential areas, particularly in infrastructure construction and transport.
On land border and territory issues, they praised the results of cooperation in the proper implementation of the three land border documents and agreed to urge relevant agencies to work on the early signing of an agreement to facilitate free travel of ships at the mouth of the Bac Luan river, tap tourism potential in the Ban Gioc waterfall area, and utilize water resources.
On the East Sea issue, they called for coordinated efforts to settle disputes through peaceful means on the basis of mutual respect and benefit, and abide by international law, particularly the 1982 UN Convention on the Law of the Sea (UNCLOS) and the Declaration on the Conduct of Parties in the East Sea (DOC) towards the building of the Code of Conduct in the East Sea (COC).
The two FMs spoke highly of results of cooperation between the two foreign ministries and agreed to further enhance their cooperation and coordination in the future.
As a coordinator for ASEAN-China relations, Vietnam will work more closely with China to make ASEAN-China ties more substantial and effective, Mr Minh said.
On the occasion, FM Pham Binh Minh invited Mr Yang to visit Vietnam at a convenient time and his invitation was accepted with pleasure.