Russian leaders regard Vietnam as a reliable partner and a bridge for Russia to implement and expand its policies in Asia-Pacific and Southeast Asia, General Secretary Nong Duc Manh said.
He made the statement while visiting the Vietnamese Embassy in Moscow where he also met with representatives of the Vietnamese community on July 10, as the leader of a high-ranking Vietnamese delegation's visit to Russia that began July 8.

Vietnamese ambassador to Russia, Bui Dinh Dinh, reported to General Secretary Manh that the friendship ties between Vietnam and Russia had strengthened and expanded.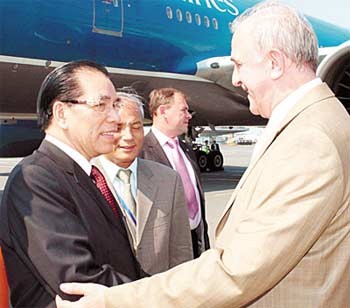 St. Petersburg vice governor A. Prokhorenko welcomes visiting General Secretary Nong Duc Manh (L) at the Pulkovo airport in Russia on July 11 (Photo: SGGP)
Last year, despite the global economic crisis, trade between the two countries reached more than US$1.7 billion, an increase of 11 percent from 2008, the ambassador said.

Mr. Manh said that the visit brought good results, with the two sides agreeing to boost multifaceted cooperation, increase the number of visits between high-ranking officials, and boost trade between Russia and Vietnam up to US$10 billion in some years to come.

The two sides also agreed to step up large-scale projects in fuel and energy, as well as in may other fields, including technology, military, security, defense, culture, and education, he said.

He said a joint communiqué on the visit would further confirm a comprehensive strategic partnership between Vietnam and Russia.

He also said the two countries would sign a series of important cooperative agreements during Russian President Dmitry Medvedev's visit to Vietnam scheduled for later this year.

Talking with Vietnamese residents in Russia, Mr. Manh advised them to comply with the laws of Russia, help each other live and work there and give support to their homeland.

Agreements with Zarubezhneft

During his visit to the Russian oil and gas group Zarubezhneft on July 11, Mr. Manh witnessed the signing of three cooperation agreements between Zarubezhneft and the Vietnam National Oil and Gas Group (PetroVietnam).
Under the agreements, the two groups will proceed with their plan to expand the Vietsovpetro Joint Venture Company to a new level and increase the exploration and exploitation of oil and gas in Vietnam, Russia and other countries.
In his speech at the Zarubezhneft office, the Party Chief affirmed that the cooperation between Vietnam and Russia in the fields of energy, petroleum, and gas was one of the most effective collaborations between the two countries.

Vietsovpetro has always played a leading role in Vietnam's oil and gas industry, greatly contributing to the country's economic growth while greatly benefiting Russia as well, he said.

On the afternoon of July 11, the Vietnamese leader and his entourage left Moscow for Saint Petersburg, continuing their official visit to Russia.