Vietnam will create good conditions for foreign investors, President Nguyen Minh Triet said in a meeting with a German delegation of business leaders, headed by the general director of WAZ Media, Bodo Hombach, on February 21 in Ho Chi Minh City.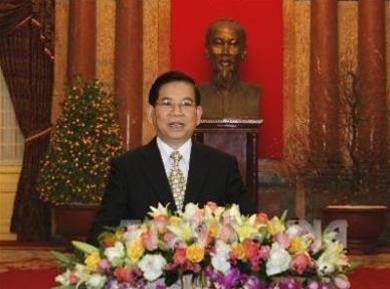 President Nguyen Minh Triet
President Triet welcomed the delegation's desire to invest in Vietnam and said Germany was a developed, modern industrial country.
Vietnam is developing and integrating into the world of globalised economics, so it needs support from and cooperation with many fields and countries in the world, especially Germany's.
Vietnam welcomes foreign companies that want to invest in Vietnam and will create an advantageous investment environment, President Triet said.
President Triet said he was pleased with the ever-developing friendship and cooperation between Vietnam and Germany, especially in economic areas.
On behalf of the delegation, Bodo Hombach thanked the Vietnam government and Vietnamese people for their good sentiments toward Germany in general and German companies in particular.
WZA Media Group is one of the largest newspaper publishers in the Europe, with 65 newspapers, published in 12 countries in Europe.
WAZ Media group opened a representative office in Ho Chi Minh City late August 2008 and it is the first office in Asia. WAZ wants to promote the relationship between Vietnam and Germany and broadcast Vietnam images throughout the world.