The prices of oil products in Vietnam reduced by VND300-500 a liter beginning 9pm Friday after a Ministry of Finance decision late afternoon.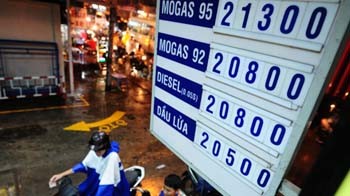 The new prices of some fuel items late August 26, 2011 (Photo: Tuoi Tre)
A litter of A92 gasoline now costs VND20,800 (about US$1) after sliding down by VND500.
The prices of diesel and kerosene are down by VND300 to cost VND20,800 and VND20,500 per liter, respectively.
The ministry also ordered businesses to reduce the sum contributed to the gasoline fund from VND400 to VND300 for each liter of gasoline sold. It remains unchanged to diesel, kerosene and engine oil.