2014 was considered as a successful year of Vietnam foreign relations activities, helping the country to affirm its position and prestige in the regional and global situation.
 
Not only Vietnam but also many countries in the world have faced many challenges in the political and economic factors during the previous times. For example, Vietnam negotiated with China on issues relating to illegally placed its HD 981 oil rig and vessels from Vietnam's continental shelf and exclusive economic zone.
 
ASEAN adopted a general declaration about East Sea for the first time after 20 years. Violating to Vietnam's exclusive economic zone has become a mutual worry of Asian region and international community.
 
Regarding the East Sea issue, Vietnam also affirmed the country's sovereignty on East Sea to all countries in region as well as in the world through official state visits, the regional and international dialogues and other exchange activities.
 
In the context of proving internal force about economy, defense, creating solidarity as well as building a mutual agreement of Vietnamese communities in the country and abroad, experts confirmed that Vietnam is one of the most important geo-political sites to link the regional strategic economies.
 
Particularly, the relationship between Vietnam and the United States in 2014 was tightened further, for example Vietnam and the United States signed an official agreement on peaceful civilian nuclear energy cooperation (The 123 Agreement); the United States abolished part of antipersonnel weapon embargo; Vietnamese and the United States leaders' often hosted official visits, including first visit of chairman of the Joint Chiefs of Staff of U.S. Army General Martin Dempsey; the United States Ministry of Foreign Affairs held a party to say good bye to Vietnam Ambassador Nguyen Quoc Cuong before the ambassador ended the working term in Blair House- Blair House- guest house for the President of the United States.
 
In the Asian region, Vietnam affirmed its important role in implementing policies toward Eastern Europe of India under working term of Prime Minister Narendra Modi.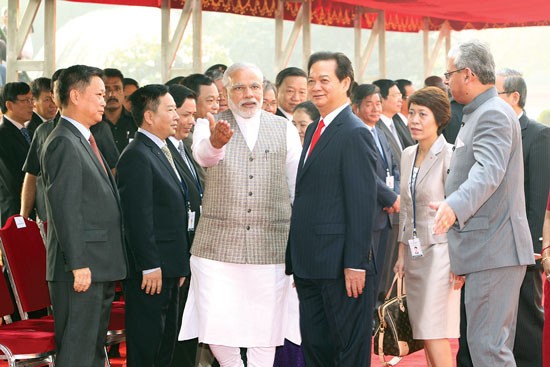 Indian Prime Minister Narendra Modi (white shirt) welcomed Vietnamese Prime Minister Nguyen Tan Dung at Pastrapati Bhavan Palace in New Delhi capital on October 28, 2014.
In order to strengthen further alliance relation between Vietnam and India, Prime Minister Nguyen Tan Dung signed cooperation agreements in the sectors of  energy, security and defense with India on the occasion of his third visits to the country.
 
Besides, Indian president Mukherjee's visit to Vietnam on September 14- 17, 2014 was considered as turning point in establishing Vietnam- India strategic partnership relation. At that time, two countries signed seven important cooperative agreements including a cooperative agreement in the fields of security and defense, trade, airline service and mineral oil.
 
Opening direct air route from India to Vietnam was to aim at creating favorable conditions to develop trade and tourism sectors between two countries.
 
In addition, Vietnam also has strengthened cooperation with Japan. Recently, the country always has kept close watch on bilateral relation with Japan through two sides' official state visits.
 

Prime Minister Nguyen Tan Dung joined in the 17th ASEAN Plus Three Summit in Nay Pyi Taw, Myanmar on November 13, 2014.
The higlight of multilateral activites in 2014 was the Integration into East Asian and ASEAN Economic Communities 2015. It will bring many trade and investment opportunities for Japan because Vietnam is not only one of the most important geo-political sites to link between South East Sea and North East Asia economies but also a large potential economic country about natural resources and humanity source.