The Government is soliciting suggestions from organizations and individuals on how to improve accountability and transparency of public agencies and reduce corruption.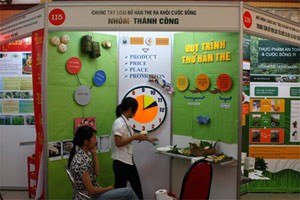 A contestant at last year's Innovation Day, which was themed "Food Safety", explains her innovation (Photo: World Bank)
It is being done under a program themed "Raising Accountability and Transparency, Reducing Corruption" as part of Vietnam Innovation Day 2009 and is organized by the Government Inspectorate and the World Bank.
 
On the launch of the program on Wednesday, Mai Quoc Binh, deputy general director of the Inspectorate, said to fight corruption the Government and Party should improve transparency and accountability as part of administrative reform.
 
"This competition will give the public a chance to contribute to the fight against corruption because it is the concern of every citizen," he added.
 
Martin Rama, acting World Bank country director in Vietnam, said to have a robust administrative system, the Government should bolster accountability and transparency, fight corruption, and encourage people to take part in its activities.
 
Everyone has the responsibility to fight corruption, he said, adding that is why the bank supports initiatives to help Vietnam succeed in this fight.
 
Proposals can be submitted until March 9 next year to 220 Doi Can Street, Ha Noi, or on giv.ic@thanhtra.gov.vn. Details are available on the World Bank Vietnam's website at www.worldbank.org/vn/ngaysangtao.
 
The proposals must focus on reform, accountability, and transparency at local and central organizations, improvement of public services, and the fight against corruption.
 
Ten winning proposals stand to get prizes of up to US$15,000.
 
This is the sixth Vietnam Innovation Day, with each year having a different theme.
 
According to the World Bank, a third of all winning proposals received in the last six years continue to be implemented effectively.
The competition is sponsored by the Australia Agency for International Development, the Danish and Finish embassies, the UK 's Department for International Development, the New Zealand International Aid and Development Agency, and the Swiss Agency for Development and Cooperation.