The 7-day Vietnam International Agricultural Fair 2007, themed "Vietnam agriculture integrates into the international community: Quality - Technology - Trademarks", opened in Can Tho City yesterday.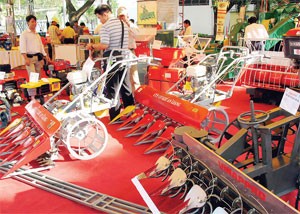 A pavilion at the fair where agricultural machines are on display

The fair attracted 641 pavilions, of which 337 are of enterprises in various business sectors, 39 belong to Australia, the United States, Germany, Norway, Japan, Korea, Pakistan and Taiwan territory.
Good fruit contests and seminars through which farmers, scientists and customers exchange information about products and markets will accompany the fair.
On opening day, all kinds of agricultural machines, especially combine harvesters, were reportedly bought by farmers.