Vietnam and Malaysia have seen positive developments in their multi-faceted cooperation, especially in the areas of politics, diplomacy and trade, said Prime Minister Nguyen Tan Dung.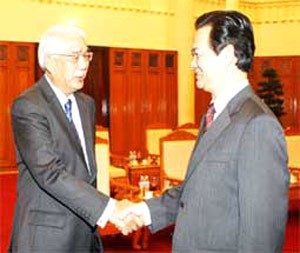 Prime Minister Nguyen Tan Dung receives President of the Malaysian Senate Abdul Hamid Pawanteh on January 6
Mr. Dung made the statement at a reception for President of the Malaysian Senate Abdul Hamid Pawanteh, in Ha Noi on January 6.
Mr. Dung said he was pleased with the Vietnam-Malaysia relationship, which has contributed to the region's cooperation and development.
While applauding the cooperation between the Malaysian Senate and the Vietnamese National Assembly, Mr. Dung requested that Malaysian investors quickly implement the agreed projects.
Malaysian businesses' projects in Vietnam will yield good results, he said.
Uninterrupted flows of investment into Vietnam have proven the country's dynamic and successful development, said Abdul Hamid Pawanteh.
Foreign investors in Vietnam always believe in Vietnam's bright future, he said.
Two-way trade between Malaysia and Vietnam exceeded US$4 billion in 2008, a year-on-year increase of 22 percent.
Malaysia now ranks second among 60 countries and territories investing in Vietnam , with more than 300 projects capitalized at around US$18 billion.