The Vietnam Fatherland Front (VFF) Central Committee will coordinate with VRC to mobilize all strata of society in Vietnam to help the Japanese people with donations and any other means in their hour of need.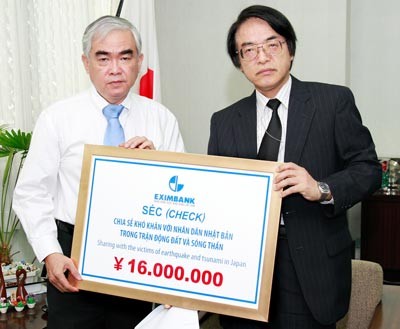 Eximbank Chairman Le Hung Dung (L) offers VND4 billion ($200,000) to suport Japanese victims.(Photo:SGGP)
Huynh Dam, President of the (VFF) visited the Japanese Embassy in Hanoi on March 18 to condole with the Japanese disaster victims.
Mr. Dam said that Vietnam will do its best to help the Japanese Government, its people and the victim families. He said that the Vietnamese Government has decided to provide maximum assistance via the Vietnam Red Cross (VRC), a member of the VFF, and made an appeal to the Vietnamese people to make generous donations to help the Japanese people.

The VFF has begun to receive donations from ministries, agencies and people nationwide in response to its appeal for help to the disaster victims. The organization has so far collected a total of VND10 billion (US$500,000) from organizations and individuals.

Le Hung Dung,  the Chairman of Eximbank visited the Japanese Embassy in the afternoon of March 18 and donated more than VND4 billion ($200,000) for the Japanese victims. Nearly, 5,000 employees of Eximbank have collected nearly VND2 billion ($100,000) from one day's salary to send to the disaster victims.

On the same day, the Ho Chi Minh City Foreign Office launched a campaign to mobilize donations for the Japanese earthquake and tsunami victims. Each staff member will contribute at least one day's salary to support their fellow Asian nation.

Vietnam Airlines has also decided to offer VND650 million ($32,500) to the Japanese victims.
Related articles: