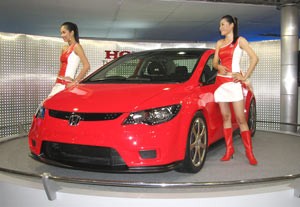 A model of Honda Civic Modulo (Photo: T.C.)
The Viet Nam Motor Show this year, held by the Viet Nam Automobile Manufacturers Association (VAMA) in Ho Chi Minh City from 27 to 31 October, provided a snapshot of the local automobile market.
Visitors had chance to view 115 latest models of 14 top car makers showcased at the show.
Aside from the models produced in Viet Nam like E-Class and C-Class, the renowned Mercedes-Benz Viet Nam caught visitors' eyes with its refined ML500 models.
Honda Viet Nam attracted consumers with its Civic Modulo model with its beautiful design and convenient interior. Vidamco showcased its newly imported model Chevrolet Captiva.
The Concept T2X of the GM Daewoo is targeted at young people with its exciting design of a sport coupe.
The debut of those imported cars enables local consumers to have a closer look at top-notch auto models using cutting-edge technologies from abroad and somewhat weakened the sole position of cars made in Viet Nam whose technologies are still limited.
Attempting to Heat up Frozen Market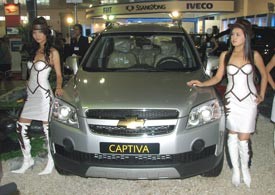 View of Vidamco Chevrolet Captiva (Photo: T.C.)
During the 5-day exhibition, the Viet Nam Motor Show 2006 attracted hundreds of thousands of  visitors.
VAMA has high hope that the Viet Nam Motor Show 2006 will be a stepping stone to heat up the frozen automobile market.
However, the result is not as good as expected. There were a massive number of cars showcased at the exhibition this year, but most of them were already on sale at local car trading shops.
In addition, local consumers who are waiting for a breakthrough in automobile prices at the show were deeply disappointed.
  
According to car makers, the price was reduced through the increased warranty period from one year to 3 years.
That pricing policy is obviously hard to heat up the currently frozen automobile market.
Deputy industry minister Do Huu Hao warned that Vietnamese car makers ought to improve their competitiveness if they do not want to lose domestic car markets to foreign competitors when Viet Nam joins the World Trade Organization.