Vietnam topped the list of 20 countries awarded Asia's Most Attractive Nation for Manufacturing at the "Top Asia Corporate Ball 2014" held in Kuala Lumpur, Malaysia on November 22.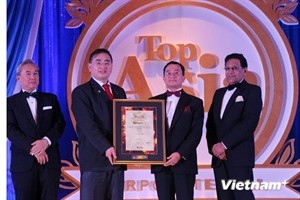 Vietnamese representative, Ambassador to Malaysia Pham Cao Phong, received the award (Photo: VNPlus)
Speaking at the event, Minister of the Malaysian Prime Minister's Department Wee Ka Siong expressed his hope that the awards will encourage individuals and organisations in various sectors across Asia to obtain greater achievements in the future.
Other awards included "Asia's Best Island Nation Destination won by Maldives, "Fastest Economic Growth Nation in Asia" by the Philippines, "Asia's Most Inspiring Platform for Business Talents" by Singapore, "Asia's Best Nation in Argo-Industry Development" by Uzbekistan and "Asia's Most Attractive Medical Tourism Destination" by Thailand.
The "Top Asia Corporate Ball 2014", the second of its kind, is an annual event launched by Kuala Lumpur-based Top 10 of Asia with the aim of honouring the most outstanding individuals and organisations in Malaysia and nations across Asia.
This year's event saw the participation of about 900 CEOs, business owners and diplomats from more than 20 Asian countries.