The Prime Minister has stated that Vietnam needs to build deep-water seaports in the northern city of Hai Phong and the southern province of Ba Ria-Vung Tau to receive larger-tonnage ships within the next five years.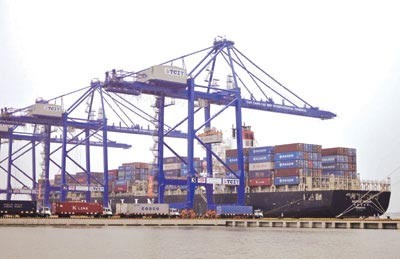 Ships load containers in Tan Cang-Cai Mep Port in southern Ba Ria-Vung Tau Province (File)
The PM made the statement at a recent government meeting to discuss the development of seaport group No.5.
 
He said that Lach Huyen port in Hai Phong and Cai Mep and Ben Dinh ports in Vung Tau would be developed into deep-water seaports to receive larger vessels from the North and South, which can travel longer distances.
 
The PM noted that the development of seaports has to go with the simultaneous development of infrastructure, including distribution centers and logistic services.
 
The PM ordered the Ministry of Transport to develop all-purpose ports at Cai Mep, Cai Mep Ha and Ben Dinh-Sao Mai to cater to all import and export requirements.
 
The ministry was asked to work with the People's Committee of Ho Chi Minh City and Dong Nai Province as well as relevant agencies, to build seaports on the right banks of the Thi Vai-Cai Mep River and develop a mechanism to attract international transit shipments.
 
The PM said building ports in new locations in HCMC is important because this will help to ease the traffic congestion inland in the city and facilitate the city's sustainable development. Therefore, the development of ports was imperative.
 
The city needs to check and revoke licenses given for port construction projects that have not been implemented according to regulations.
 
Licensing of new port projects in HCMC have to be approved by the PM.