Vietnam officially inaugurated its first oil refinery on Feb. 22, in what is being hailed as an important event in the country's development and energy security.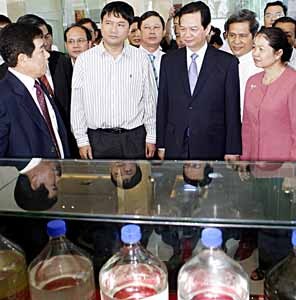 Prime Minister Nguyen Tan Dung (2nd,R) watches oil products at the Dung Quat refinery Feb. 22
Prime Minister Nguyen Tan Dung attended the inauguration ceremony and pressed the button to launch the first flow of commercial oil of the Dung Quat oil refinery that is located in the central province of Quang Ngai.
Former National Assembly Chairman Nguyen Van An, Head of the Party Central Committee's Commission for Inspection Nguyen Van Chi, Head of the Party Central Committee's Commission for Mass Mobilization Ha Thi Khiet, and Deputy PM Hoang Trung Hai, Head of the state steering committee for key oil and gas projects, were present at the ceremony among others.
Party General Secretary Nong Duc Manh also sent a basket of flowers to congratulate the event.

Addressing the function, PM Dung praised concerted efforts of officials, experts, engineers, workers, project management board and contractors to overcome a wide range of difficulties and challenges during thousands of days to bring out the Dung Quat oil refinery's first flow of petroleum – an expectation of the whole country.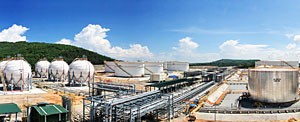 A view of the Dung Quat oil refinery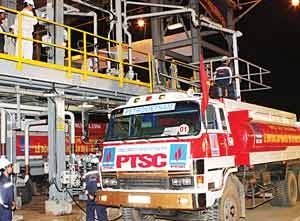 A PetroVietnam tank truck carries oil from Dung Quat on Feb. 22
This is the first commercial oil flow produced by the nation's first oil refinery that is equipped with technology, managed and operated by Vietnam itself, he said, adding that "it marks an important start of the oil refinery and petrochemical industry."
The government leader went on to say that the oil refinery is a milestone and a key national project of great significance in all aspects, from politics, economy, society, national defence and security to the country's industrialisation and modernisation, for Quang Ngai province and the whole central region.
The Dung Quat oil refinery was defined by the Vietnamese National Assembly as a key national work which needs to use advanced technologies and techniques to produce high-grade products meeting strict requirements for environmental protection.
Accordingly, with the designed capacity of refining 6.5 million tons of crude oil a year, the refinery is expected to meet about 30 percent of local demand for petroleum.
The oil refinery construction was undertaken by the Technip contractor group that included Technip (France), Technip (Malaysia), JGC (Japan), and Tecnicas Reunidas (Spain).
During the construction process, started in 2005, the Technip group already recruited more than 100 Vietnamese sub-contractors and suppliers of related equipment and services.
It has generated jobs for tens of thousands of local people in Quang Ngai and at peak periods employed up to 12,000 workers from other localities in Vietnam and more than 30 countries around the world.
The plant is expected to run at its full capacity in this August.
When running in full, the Dung Quat oil refinery is capable of churning out about 150,000 tons of petrol, 240,000 tons of diesel, and around 23,000 tons of LPG a month.
Additionally, it can also be producing over 8,000 tons of Propylene, 30,000 tons of jet fuel and around 25,000 tons of FO.
In total, this year the plant is expected to hit the market with about 2.6 million tons of oil products.
To serve the full operation, the Dung Quat refinery has since May, 2008 conducted several test runs, using 1,500 tons of LPG, over 50,000 tons of diesel, and 160,000 crude oil from the Bach Ho (White Tiger) oilfield.
More than 1,000 people have been trained to operate and manage the refinery.
Also in May 2008, the Binh Son Refinery and Petrochemical Company was established in order to manage and operate the oil refinery effectively.
The same day, the Quality and Standard Directorate handed over a quality certificate to the first petroleum flow produced by the Dung Quat oil refinery.