Vietnamese and Philippine armies will step up their multi-faceted relations in the coming time as there remains much room for their collboration, said high-ranking officers of the two countries in Hanoi on June 24.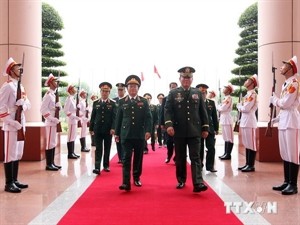 Senior Lieutenant General Do Ba Ty (L) and General Emmanuel Bautista (Photo: VNA)
During the talks, Senior Lieutenant General Do Ba Ty, Chief of the General Staff of the Vietnam People's Army, and General Emmanuel Bautista, Chief of Staff of the Philippines' Armed Forces, shared the view that bilateral defence ties have seen positive developments in the past years.
They agreed that in the coming time, both armies will promote the exchange of delegations at all levels and cooperation in personnel training.
The two countries will also boost joint training on search and rescue activities at sea, work closer to solve the problem of fishermen violating the law while fishing in bordering waters, and exchange views on issues of mutual concern.
The Vietnamese host also expressed his hope that the Philippines will share its experience in joining the United Nations' peace-keeping mission.
Later the same day, Defence Minister Phung Quang Thanh received General Bautista, who will continue his official and friendly visit to Vietnam until June 26.-VNA