"Vietnam asserts its sovereignty over the archipelagos of Hoang Sa (Paracel) and Truong Sa (Spratly)," said Foreign Ministry spokesman Le Dung on May 16.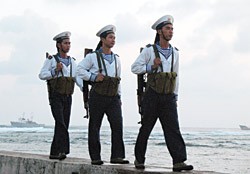 Vietnamese naval soldiers on a patrol on Truong Sa. Foreign Ministry spokesman, Le Dung, said on May 16 that "Vietnam asserts its sovereignty over the archipelagos of Hoang Sa and Truong Sa." (Photo: Thanh Nien).
He was speaking in response to reporters' questions about Vietnam's reaction to China's decision to ban fishing operations in the East Sea, including waters belonging to Vietnam, effective from May 16 to August 1 this year.
"Any action by other countries toward Vietnam's two archipelagos, as well as its continental shelves and exclusive economic zones, without its government's permission is a violation of Vietnam's sovereignty and of jurisdiction rights in these regions," he said.
"While seeking a basic and long-term solution to all disputes in the East Sea, all concerned parties should comply with the 1982 UN Convention on the Law of the Sea and the Declaration on the Conduct of Parties in the East Sea, without taking any action to make the situation more complicated, to contribute to maintaining peace, stability and cooperation in the region."
First citizen born on Truong Sa
About 12:05pm on May 16, a baby girl weighing 3.2 kilograms was born at the clinic on Song Tu Tay Island, part of the Truong Sa (Spratly) archipelago, becoming the first citizen born there.
After giving birth, the mother, Truong Thi Lien, 32, and her baby were in good health, according to Senior Lt. Dr. Mai An Giang, from the 108 Army Central Hospital, head of the delivery team.
Another pregnant woman on Truong Sa, Tran Thi Nu, is expected to give birth in October, according to local doctors.