The Vietnam Red Cross (VRC) on March 16 received a US$10,000 donation from the Vietnam Post and Telecom Group (VNPT) and the Vietnam Post Trade Union to support Japanese victims of the disastrous earthquake and tsunami that shook the country on March 11.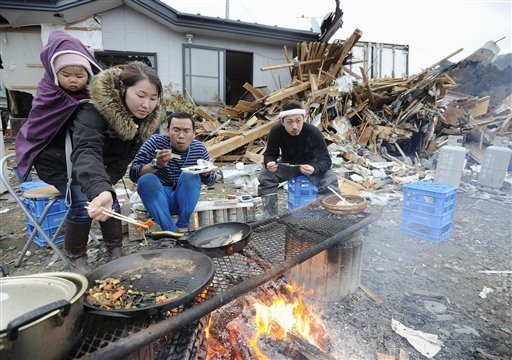 Tsunami survivors cook and eat in front of their damaged house Tuesday, March 15, 2011 in Ishinomaki in Miyagi Prefecture (state) after the area was badly damaged by Friday's massive earthquake and tsunami. (AP Photo/Kyodo News)
VRC has already donated US$50,000 and hopes to raise more funds for earthquake and tsunami victims in Japan. The campaign to raise donations will last from March 15 to April 15.
VRC is coordinating with the International Red Cross Committee and the Japan Red Cross to provide Vietnamese of any information about their relatives living in Japan and also help Vietnamese living in Japan to contact their families back home in Vietnam.
All Vietnamese people who want to seek information about their relatives in Japan can contact Mrs. Tran Thi Quy, Department for Search for Relatives Information, Board for Social Work and Disaster Management, Vietnam Red Cross Society. Tel: 043 8224030/127 - Fax: 043 9424285 or email: quytranthi63@yahoo.co.uk
On March 16, Sai Gon Giai Phong Newspaper donated VND100 million ($5,000) to support earthquake and tsunami victims in Japan.
SGGP also called for individuals and organizations nationwide to help the Japanese people to overcome the recent disaster of the earthquake and tsunami. For any offer of assistance to Japanese victims, please contact SGGP Newspaper, 399 Hong Bang Street, District 5.